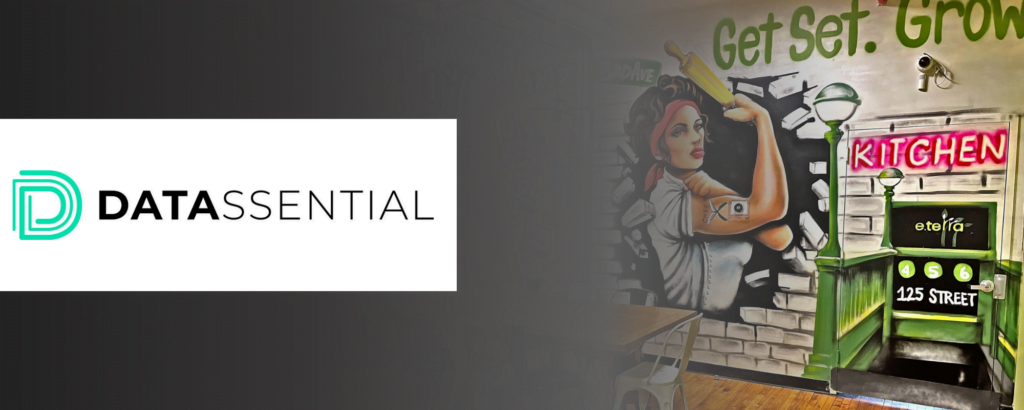 A LITTLE BIT ABOUT E. TERRA CO-FOUNDER & CEO BELLA KARAKIS:
With 30 years of management, business development, strategic partnership, and intellectual property legal experience, Karakis brings a proven track record of success. Prior to e.terra Kitchen, she was a co-founder of a shared commercial kitchen and food hall concept, as well as co-founder of a mobile hospitality company with two food truck operations n the DC Metro area. An avid life-long learner and believer that knowledge is power, Karakis strongly believes in supporting the community that she works and lives in, through volunteering and mentorship.
DATASSENTIAL: Can you start by sharing a bit about e.terra Kitchen and the inspiration behind it?
KARAKIS: e.terra is a flexible commercial kitchen with two locations based in Harlem that provide two core services: on-demand kitchen workspace and support services to all food and beverage brands, customizable to the needs of each company and available any time, any day. We launched our first location in June 2021. As a food entrepreneur with two separate ventures in the past, I was challenged by the lack of available commercial kitchens myself, and I understand first-hand the challenges faced by small food businesses. First, with my biscotti line while living in Stamford, CT, and then, years later, with a food truck operation in Northern VA, I needed a commercial kitchen to support my own businesses and neither location had a kitchen within an hour driving distance from our base of operations. It truly impacted my operations both times: with biscotti, making it impossible to launch and grow, and with the food truck operation, forcing us to use our home kitchen out of desperation to support our catering operations. My own experience made it imperative that I focus my attention on providing the comprehensive solutions that the food and beverage industry needs.
D: What differentiates e.terra from other flex or shared kitchen spaces?
K: We are the only flexible commercial kitchen in the NYC Metro area that is available 24/7 and the only one that can fully customize solutions for each member's needs, whether they be a small start up food brand that needs business development and training or a large corporate client such as Resy seeking to bring a unique dining experience to exclusive clientele in NYC and needing a large kitchen to support their back-of-house operations. Through our Cares Program, the e.terra Kitchen team volunteers on a monthly basis with charitable organizations such as Gods Love We Deliver and Union Settlement to support food insecurity initiatives, such as food rescue and delivery.
D: Are there any aspects of what e.terra offers fledgling businesses that are specific to the Harlem or NYC market/landscape?
K: We offer on-demand kitchen and support services that fit every urban and suburban community across the country. In our 2 Harlem locations, we provide support for small food and beverage businesses that are approximately 70% minority-or women-owned. To further support them, we provide them with employee assistance through organization such as the Isaacs Center and Youth Action Youth Build, a culinary community where they can find advice and assistance from other business owners.
D: Are there any food or beverage trends you're seeing in the businesses that are utilizing your space?
K: We are seeing a number of interesting trends! We have more and more ghost /virtual brands that are discovering that they can easily be accommodated in a flexible commercial kitchen and allow them to scale as they need with our customizable kitchen and storage solutions and support services, rather than be confined to a 300-square-foot kitchen suite, keeping their costs lower and allowing them to scale to fit their individual need and timeline. We also see more and more vegan brands, including vegan desserts, joining our kitchens and thriving as there is a huge demand for vegan food. This interview has been edited for space and content.