Flexible Commercial Kitchens
& Workspace Solutions
to Fit Your Needs
Looking for a fully equipped, state-of-the-art commercial kitchen to rent for your food & beverage business?
Contact us today to schedule a tour!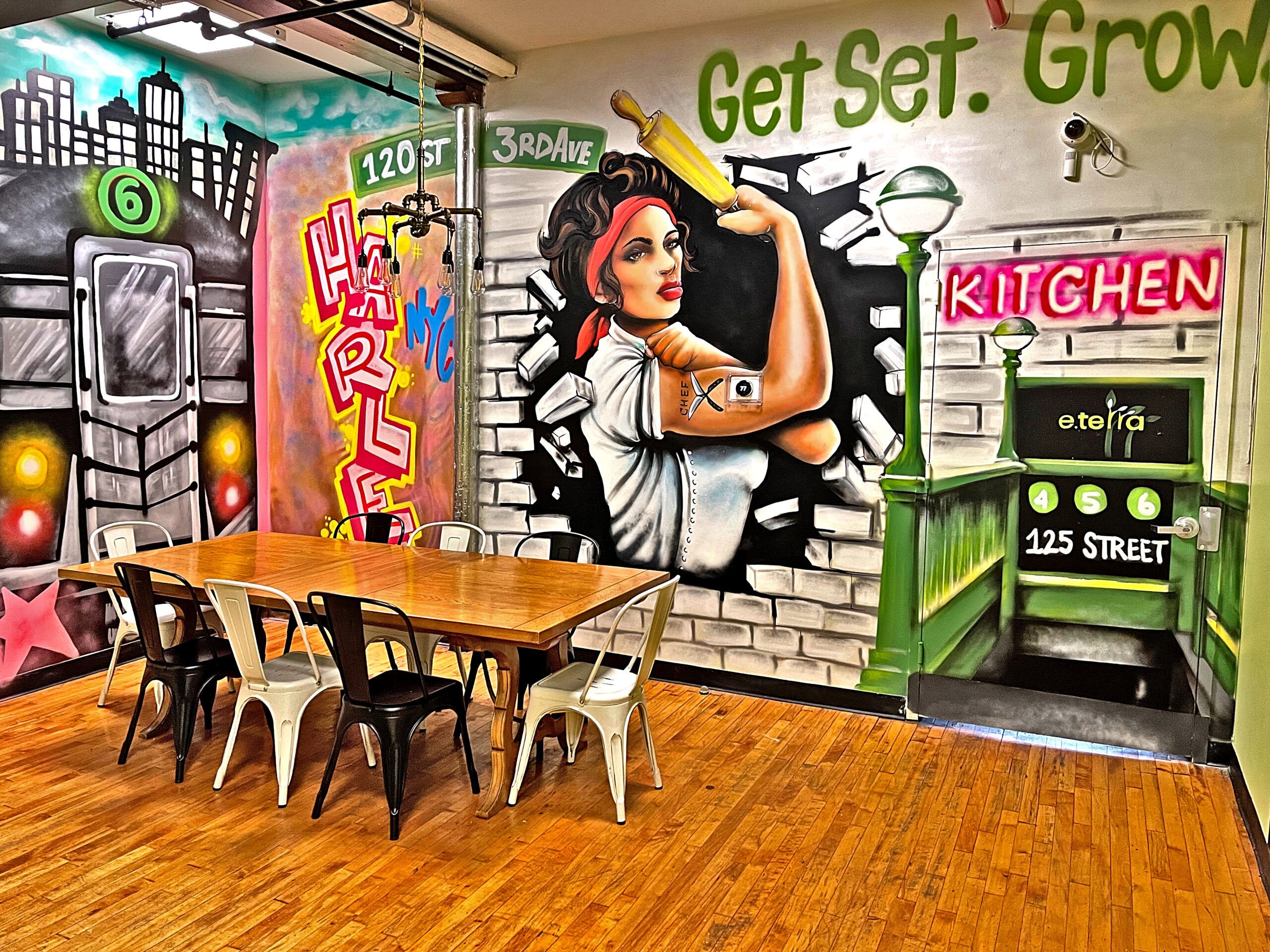 Flexible Commercial Kitchens
& Workspace Solutions
to Fit Your Needs
Looking for a fully equipped, state-of-the-art commercial kitchen to rent for your food & beverage business?
Contact us today to schedule a tour!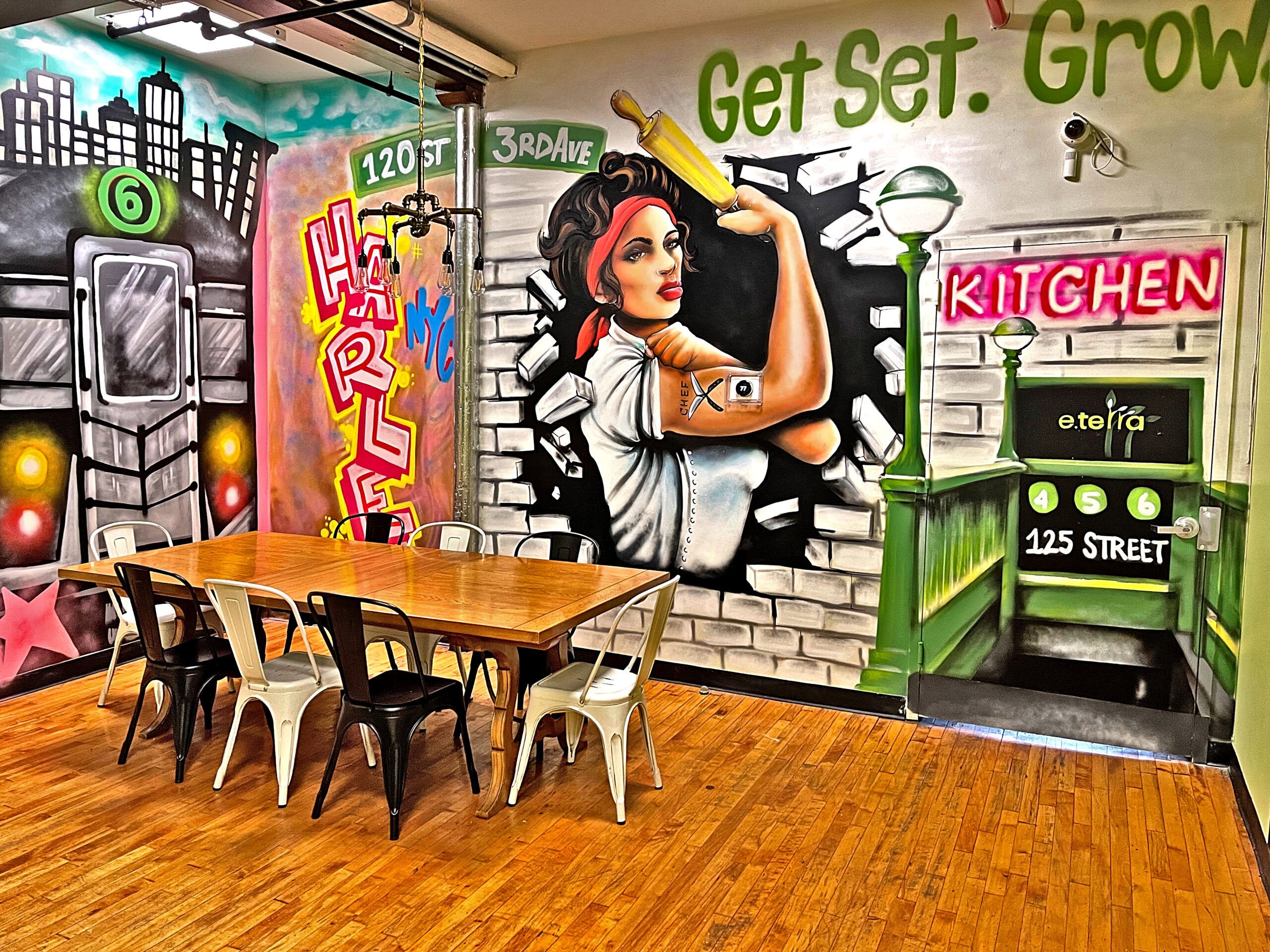 What is a flexible commercial kitchen?
A flexible commercial kitchen is a licensed kitchen regulated by the local health department where foodservice providers can safely and legally prepare, cook and store food and equipment. It serves as the home base of various food operators, including chefs, caterers, bakers, food consultants, menu developers, product manufacturers and restaurateurs.
e.terra works with its members and special event booking clients to provide customized workspace solutions to fit the needs of a vast range of food production, storage, and filming/photo needs in its large, open format kitchen spaces.
Our Mission is to innovate the culinary workspace by providing transformative solutions that empower growth of all food & beverage brands: flexible, on demand, 24/7 accessible workspaces and customized support to fit all F&B needs.
e.terra provides both state-of-the-art kitchen facilities and comprehensive support to empower a wide range of growing foodservice businesses.
We have two flexible commercial kitchen facilities available to rent and conveniently located in Harlem.
Watch the video tour to take a peek into one of our spaces!
Real Stories. Real Experiences.
Here's what our members have to say:
"e.terra helped my business blossom into what it is today. The service, the education, the community. IT's all 100%. I live in Brooklyn and I would not trade my commute for anything to NOT be apart of e.terra. Bella and her team are top notch. They provide business resources galore. HIGHLY RECOMMEND."
-Stephani B
"Much needed space for entrepreneurs in the city. The owner and staff are knowledgeable, have great intent, and are great people. They have helped many small businesses and I look forward to their expansion."
-Ricardo L
"I am a current member of e.terra 1580 Park Avenue. I have a great experience working with them. The whole team is very attentive with all my inquiries and concerns and they addressed it promptly. They are also accommodating with the needs of my business in order to have a smooth and efficient production."
-Jesebel G
"My wife and I were able to get our business started at this wonderful shared kitchen which is located on the upper east side of Manhattan. The experience could not have been better as the space is huge and contains all of the tools we needed to complete our task of creating our products. The staff and management team have been helpful and we are forever grateful as we continue to grow our business. Thank you e.terra - from Gotham Freeze!"
-Dennis D
"A current member of e.terra and I love it here 😊 everyone is kind and welcoming. The rates are affordable and they do the best they can to accommodate."
-Nani K
"Beautiful kitchen and wonderful staff! The perfect commercial kitchen in NYC. Big thank you to Bella, Gene and Stephanie for your amazing hospitality always ❤. "
-Keima H
"I'm currently a member at e.terra and have had an excellent experience. Their kitchens are huge, clean, well equipped, with every appliance and item you need provided. They have ample dry and cold storage and a supportive team who is there to help small food businesses succeed. It's the best shared kitchen I have worked in as a caterer in NYC."
-Renee K
"My experience thus far working with the team at e.terra Kitchen has been great! They are really resourceful with a true mission centered on helping small businesses grow. They use their network to connect business opportunities to their small business members and more. The kitchen space itself is clean, with state-of-the-art equipment that makes processing efficient. I'll highly recommend them."
-Eunice A
"Such a beautiful facility -- whether you're producing a food item or hosting an event. Every part of the space is clean, thoughtfully designed, and comfortable. Bella and her kind and talented staff are always at the ready to assist and make your event one that's flawless!"
-Annette N